Are you hurt, annoyed, or angry with your Pisces man and wondering if you should be ignoring him? Is giving your Pisces man silent treatment something you should do to get his attention or pay him back for something he did wrong?
All relationships, no matter how strong they are, go through difficult times. This is completely normal, and there may come a moment when you just want some space and choose to ignore your Pisces man.
In fact, you are probably asking yourself, "Will a Pisces man come back if I ignore him?" I've got some helpful information you might desire.
Keep reading to learn more about what happens when you ignore a Pisces man and how do Pisces react to being ignored.
Does Ignoring A Pisces Man Work?
Something you need to understand is that Pisces men don't respond well to being ignored. So, when you ignore a Pisces man, you may be taking a huge risk with your relationship. Pisces are highly emotional men, and it adds extra drama into their world that they will not appreciate. 
Let me explain further… If your Pisces man has done something wrong and you're trying to punish him by ignoring him, this may be a mistake. For one thing, he may not even know why you're upset, and therefore, ignoring him may make things worse.
Another thing is, if you don't give him the courtesy of letting him know what he did that hurt your feelings, he may be prone to do it again unknowingly. Certainly, you don't want a repeat of that scenario, right? So, cutting off a Pisces man might not be the right course of action.
You've got to be really honest with him rather than going dead silent. The silent treatment doesn't typically go over well when you ignore a Pisces man. He'll think maybe you just aren't into him anymore, and he'll start preparing himself to move on.
When you're upset, try to calm yourself down before you do something you may regret. Pisces men do not like being ignored. It makes them feel disrespected and unloved. Leaving a Pisces man alone may make him feel quite insecure.
Unless you truly want him to feel this way and understand what the consequences could be, you may want to hold off and find another way to approach what went so horribly wrong.
Will A Pisces Man Come Back If I Ignore Him?
When you ignore a Pisces man, you are actually cutting him quite deep. Here is a man who craves emotional connection and closeness, and if he feels like you are shutting him out, then it may have a significant negative impact on your relationship.
What this means is, unless he's deeply in love with you, ignoring him will only get you dismissed in his life. He won't dismiss you if he really and truly loves you.
He won't want to lose you if he thinks you're the one for him so ignoring him may make him chase after you to apologize but unless you know that for sure, you may not want to take that risk.
When a Pisces man loves you deeply, he'll do just about anything in the world to make you happy. Why would you ever ignore him? Perhaps you should try to figure out what the problem really is.
If he hurt you or made you angry, perhaps you should sit back, reflect on the love you have for him, and figure out if he's someone you want to stay with moving forward.
If you do, ignoring him isn't the answer. Cutting off a Pisces man is a big risk, and you need to be certain about his feelings for you.
A Pisces man in love with you may fight for you, but there is also that chance that if you ignore him or put him off, he'll think you're over him, and he'll start to feel he should follow suit. Don't make that mistake! It's a HUGE risk and probably not worth it.
When you ignore a Pisces man, you run the risk of losing him forever. Playing games is not something this man is very keen on, so you need to think very carefully about doing this because there is a chance that your Pisces man won't come back.
Read next: Surefire Signs Your Pisces Ex Does NOT Want You Back
What Happens When You Ignore A Pisces Man
I know it may sound more fun to take out revenge or give your Pisces man the silent treatment but, it's probably not the most effective. Again, he'll only come running if he really and truly loves you.
Remember, if you are interested in a mature relationship with someone, then you probably need to reflect and ask yourself if you are ready. Do you think people in successful relationships go around ignoring each other?
I am a big believer in karma, so you need to remember that what goes around comes around. If you think it is okay to cut off your Pisces man, then you need to be okay when he does the same to you. This may not apply to your current relationship, but eventually, it will catch up with you.
Discover more tips on what not to do when a Pisces man pulls away <<
If a Pisces man isn't that into you, he'll be done and move on. That said, playing mind games isn't the best way to handle things with a Pisces man unless you want to get beat at your own game.
If your Pisces man has done something wrong, be mature about it and simply communicate with him. You'd be surprised how often a man messes up and has no idea that he did until his woman lets him know.
That is no reason to cut a Pisces man off for good. Everyone deserves a second chance. Tell him the absolute truth. Let him know that you're upset with him and why. This is the very best approach and the most effective. If you expect him to change or apologize, he has to know that he did something in the first place.
The True Consequences When You Ignore A Pisces Man
I've given you lots of ammo regarding why you probably shouldn't ignore a Pisces man. The other thing is, why would you do that anyway? Is it going to help solve any problems? What happens when you ignore a Pisces man?
I've seen so many articles and sites where people advise women to ignore the guy so he will chase after her. The problems never get addressed, and game-playing ensues. That isn't what you want in a mature, long-lasting relationship.
What you want is honesty, truth, love, passion, and a relationship that will stand the test of time. That won't happen without proper communication. Open up those lips, ladies, and tell your Pisces guy what is what.
When you do, he may have an apology for you. He may also have a rebuttal, but at least it won't be a "secret" that makes you go hush. Be a woman and tell him what you feel. You'll be glad you did, instead of cutting off your Pisces man.
Does ignoring a Pisces man work? Not typically, no. He doesn't like it, and he's more likely to either ignore you as well, or he'll lash out. He's not one to chase you if you give him the silent treatment, and that could seriously ruin the relationship forever. 
Learn more about warning signs your Pisces man is playing you here <<
How Can You Tell If A Pisces Man Is Still In Love With You? (Even When You Are Ignoring Him)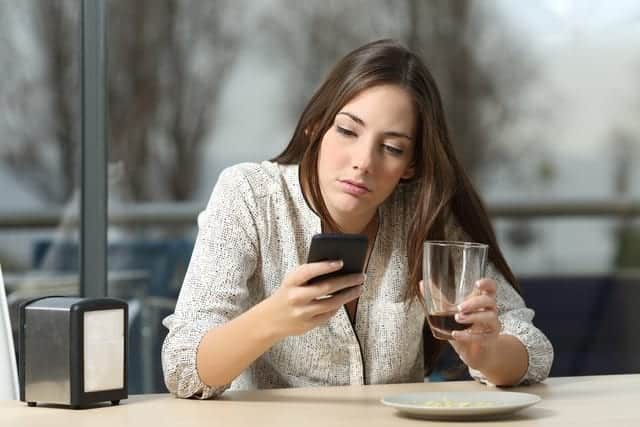 Alright, so what happens if you are ignoring a Pisces man; does he still love you? Well, let me break this down for you. It might seem confusing, but it's most likely he will ignore you back.
When you ignore a Pisces man, he doesn't have much interest in chasing you. When you ignore a Pisces man, he feels broken, hurt, and quite possibly even angry. He won't want to speak with you.
When ignoring a Pisces man, it can be hard to tell if he still loves you or not because he may appear to be rather indifferent. Perhaps after some time has elapsed and things have calmed down a bit, he may speak to you again, but otherwise, I wouldn't expect too much out of him. You must give him his space.
Leave him be and let him sort himself out. You probably should do the same before you try to contact the Pisces man again after ignoring him. He needs time to heal and forgive you as well. Giving him that time and space may help. Remember what I told you about how Pisces react to being ignored – he really doesn't like it, but that doesn't mean he doesn't love you anymore.
All in all, this is sort of a dangerous game you're playing if you feel you will get him to speak to you after it's all said and done. Give him the space and time he needs, or he will never speak to you again.
Remember that your Pisces man is a big softy, and he believes in true love and romance. You can win him over by wooing him and letting him know that you were wrong and immature to ignore him. 
But you should only make this promise if you can say with certainty that you will never ignore him again because eventually, he will reach his limit, and it will be his final straw. Enough is enough, even when it comes to a sensitive and forgiving man like your Pisces.
If You Listen To Dating Coaches, You Can Lose Your Pisces Man Forever…
Over the years, I've had a lot of my clients send me advice they got from dating coaches. They wanted to know if it would work with their Pisces man.
And I literally wanted to scream with frustration.
Why???
Because most dating advice definitely will NOT work if you use it with a Pisces.
You see, Pisces men are VERY different than men of other signs. And if you use standard dating advice with a Pisces, it can backfire. He might disappear forever and you'll never hear from him again.
I don't want that to happen to you. Especially when it is SO easy to draw him to you and get him to connect deeply with your heart.
You just need to know the specific phrases to tell him…
So he'll NEVER want to lose you. He'll be wrapped around your finger… And it won't take him long to put a ring on that finger either.
These phrases are the EXACT thing you need to turn everything around with him.
So… for heaven's sake… DON'T listen to normal dating coaches! They give out the same advice for ALL men… which is absolutely insane.
Because your wonderful Pisces is NOT like other men… at ALL.
Click here to find out the specific things your Pisces man needs to hear to melt his heart <<
xoxo, 
Anna