Are you wondering how to get a Pisces man to chase you? Perhaps you've met a Pisces man who doesn't appear to be showing enough interest in you at the moment. Or maybe you're in a relationship with one who is emotionally distant?
If so, you're in the right place. This article reveals all you need to know to make a Pisces man chase you. But first, we need to clarify whether Pisces men like to be chased or to do the chasing.
These guys are incredibly popular amongst the ladies, and it must be because they are so sweet, romantic, and caring… However, a Pisces man is usually quite elusive—and it can be hard to figure out how to get a Pisces man to chase you because he can be a little passive at times.
And for most women, we enjoy it when a man initiates conversations and dates. We want to feel like we are desired and wanted by men. I think we are likely more traditional than we give ourselves credit for!
You're finding that you're really interested in a Pisces man but aren't sure what to do. Should you chase your Pisces man or let him come after you? What's the right thing to do? Does a Pisces man like to be chased?
This article may help you learn how to make a Pisces man chase you, even if he typically wouldn't. Even if a Pisces man never initiates, he can get there. Keep reading to learn more!
Will A Pisces Man Chase You?
This isn't an easy question to answer, but for the most part, they are a little more passive. The Pisces man isn't much of a chaser because he would much rather be certain about someone before putting himself on the line.
Because the Pisces man is so passive, he may struggle to initiate contact or conversation with a woman. In fact, a Pisces man would much prefer it if a woman asks him out first because then he is sure that she is genuinely interested in him.
The Pisces man is a dreamer, as I've mentioned in other articles. He isn't one to give up his time or efforts unless he knows that the woman he digs for is also digging on him. He's much like some of the other signs that won't bother you.
When It Seems A Pisces Man Never Initiates — Does He Like To Be Chased?
So now that you understand why a Pisces man doesn't like to chase after their love interest, let me now look at the other side of this: does a Pisces man like to be chased? The answer is surprisingly no.
While the Pisces man wants a woman to be forward with what she wants with him, that's where she should leave it. He needs the ability to decide what he wants, and he wants the woman that will allow him to do so.
I know he sounds incredibly picky, right? The thing is, he's a free spirit, and so he wants things to develop at a natural pace. A Pisces man doesn't chase and also doesn't want a woman chasing after him either.
He really enjoys his space and wants to do with his time as he pleases. He is one of those guys who wants a relationship to form naturally, without too many games of cat and mouse.
The way he sees it is that if a Pisces man chases, it means that she is playing hard to get or that she's not truly interested. The reason he doesn't want anyone chasing him is that it feels like he has a stalker.
What a Pisces man does want is a healthy union that confirms they are a good match, and that there is potential for something great between them.
Yes, he will absolutely be thrilled if a woman tells him, "Hey, I think you're a really cool guy, and I'd like to get to know you better." He will respond in agreement with this idea!
The Pisces man is all about going with the flow and letting a relationship progress naturally. He isn't one for mind games, and he would much rather prefer to be on his own than play games to be in a relationship. That just feels a little too phony for him because he is all about authentic connections.
If you're struggling to find the right words to make him know you're interested without seeming clingy or too easy, I strongly recommend checking out my 100 Magic Phrases for Pisces Man… It will set you on the right path with your Pisces guy!
How To Get A Pisces Man To Chase You — 4 Easy Ways
What can you do to get the beautiful Pisces man's attention and make him want to chase you? How do you get this man to come to you and make you his own?
There is no clear answer as to how to get a Pisces man to chase you. Either he will or he will not. Be yourself and let him fall in love with who you are. He is more for equality, I believe.
1. Let Him Know You Like Him, Then Let A Pisces Man Chase You
It's quite simple, actually. Flirt with your Pisces man, but do it in a sweet way. Leave sexuality out of it, or he'll only consider you a toy or a friend with benefits. You definitely do not want that when trying to win his heart.
Do not show signs of chasing or pressuring your Pisces man. And do not expect him to chase after you either. If you decide to stop texting him because you're not getting what you want, it won't help you.
He won't be the one that comes back after you when you ignore him. He will assume you're not into him anymore, and he'll move on. Chasing doesn't work with a Pisces man. You can try to let a Pisces man chase you, but he may not do it.
Hopefully, this helps you figure out how to best approach getting to know your Pisces man and letting him know you like him without any pressure or stress. Realize that a natural, old-school way is actually better!
What I mean by that is let him know you like him but then allow the courting process to happen. Let it be a very natural experience for you both. He'll love it! It's a bit better than trying to let a Pisces man chase you.
How can you make a Pisces man chase you? I'm not convinced that you can make him do anything he doesn't want to do already. If he genuinely likes you or even loves you, he will pursue you.
A Pisces man playing hard to get only tends to happen if he isn't sure he wants to be involved or he's not sure about you. The Pisces man never initiates until he's really certain about someone.
2. Be Yourself At All Times
The Pisces man has a built-in B.S. detector. That means that he can tell when someone isn't being their authentic self. He wants a woman who isn't afraid to be herself and is confident. So, being yourself is one of the best ways to get a Pisces man to chase you.
Show him who you are by being his friend. Get to know him; get to know what he likes, what he wants, and what he dreams of. Talk to him and tell him about you too. The more you tell him, the more intrigued he is. This is the sure way to get a Pisces man to chase!
Don't tell him everything, though; act like you are his friend, but don't spill the beans as you would to one of your girlfriends. Be sure to leave some mystery because if he knows everything up front, he may get bored. And that could lead to him not chasing you but rather walking away.
Let him see your inner beauty as well as your outer beauty. He will be so enthralled that he'll have a hard time not wanting to chase you. You'll quickly gain a spot in his everyday thoughts. A Pisces man is all about fantasy anyway! And this is a very good place for you to be.
Slow and steady is the best way to build something special with a Pisces man. He doesn't like pressure, so when you can take things slow with him, your Pisces man is a lot more likely to chase you and initiate contact.
The more comfortable he feels with the real you, the more he'll want to be around you, which then moves into the territory of becoming friends. The Pisces man will chase you if he feels you're someone who is worth his efforts.
2. Be The Woman He Wants
How can you do this? Something else you'll need to do is be sure to show him that you're there for him if he wants to talk. When he doesn't want to, leave him alone. A Pisces man isn't scared of vulnerability and will open up when he needs to, but he also values his space and needs a lot of time on his own.
Don't ever pressure him to talk to you when he doesn't feel up to doing so. Don't ever make him feel guilty for not opening up to you. Let him call the shots when he wants to talk. He'll be far more comfortable with this. The Pisces man will open up – this is part of his nature – so you don't need to chase him!
If you show your Pisces man that you're someone he CAN talk to when he wants to versus a woman that demands he open up, you'll more than likely win his affection and get him chasing after you.
He's a very private person, so when you respect his privacy and need for space, you're showing him that you really care for him, which is a winning number to obtain the Pisces man's heart. This will surely help to get him to chase you.
Show a Pisces man great care. What I mean by this, is giving him sweet compliments, treating him to small but meaningful gifts, and letting him know how special he is to you. At the same time, allow him his freedom.
In other words, don't text him constantly, and then when he finally stops answering, you panic. That's something that will scare him off. Don't let that happen. To get him chasing after you, you've got to make him miss you a little bit.
Don't allow yourself to be 100% available for him either. Keep your life, do what makes you happy, and he will pursue you as long as he knows that you want to be with him or are interested in him.
When he develops feelings for you, he will want to be with you as much as possible. When you deny him of that constant access, he will want to come after you even more. This is the perfect solution to get a Pisces man to chase after you.
Make sure you make plans with your friends or family. Don't cancel plans you have with him, but if he tries to make new plans with you when you've already got something in your schedule, just let him know you'll have to reschedule with him.
3. Enhance Your Connection With Your Pisces Man
What the Pisces man wants the most is a genuine, deep connection with a woman, the one who can be his one and only. That means that you've got to make sure he gets to know you. A Pisces man never initiates, and this is why you need to stand out so that he can change his ways.
I mentioned being friends first before, which is just the beginning. Open up to him about important things such as your values, the way you see life, and most importantly, your dreams or desires for your life. The Pisces man loves vulnerability.
Let him in on your goals or secret passions. He'll honestly appreciate that you let him in and shared that information with him. He'll feel so special and will, in return, show you something just as beautiful.
To get a Pisces man to chase you, you've got to be sweet, caring, stable, give him his space when he wants it, and not always be available. I touched on that before, but you must understand this, or else this Pisces man is just going to play hard to get.
The Pisces man, once committed, will want to spend more time WITH you than WITHOUT you. However, in the beginning, he's going to want to be his own man and let things evolve over time.
It typically doesn't take too long for a Pisces man to start chasing the woman whom he believes is "the one." As soon as he realizes you're everything he could ever dream of, he'll be sprinting after you.
Show him your generous nature and how amazing you truly are! That's all that's really required here. Be yourself and show him who you are on the inside. He wants a woman who is everything.
By everything, I mean empathetic, sweet, caring, and secure. He wants someone who he can always trust to be honest with him and yet someone who knows how to speak to his heart.
When he doesn't speak up, respond quickly enough, or seem to disappear for a day or two, be patient. Don't think the worst. Just send a text that lets him know you're thinking of him, and he should come running!
Learn more about a Pisces man's love language here <<
Texting When A Pisces Man Is Playing Hard To Get Is A Challenge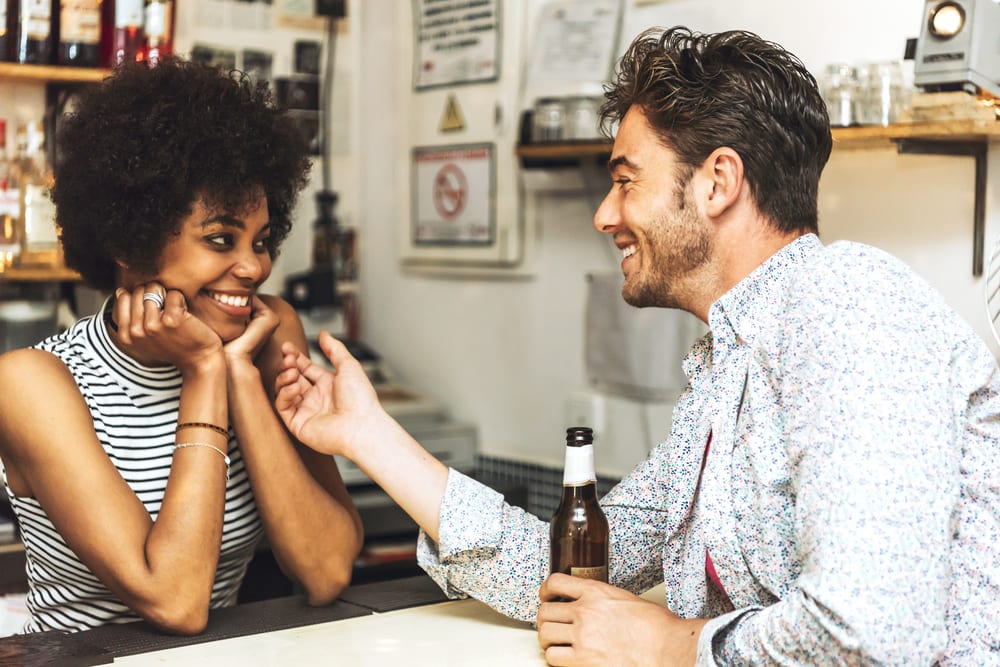 If you're someone who enjoys texting or has met a Pisces man through a social media site or dating site, you may only have access to this form of communication until he gives you his number or calls you.
When this is the case, you'll want to take things easy. Don't pressure him or demand that you two meet. If you do, he'll immediately see this as chasing or stalking, which will make him stop responding to you. Nothing gives a Pisces man the ick more than a woman who is too into him.
Instead, give him some space and time to figure things out. He might be busy, or maybe he's thinking about what you said and isn't sure how to respond yet. If your Pisces man is slow at texting back, don't shoot him another text immediately!
He needs to know that you lead an interesting, independent life and that you aren't at his beck and call. Pressuring him is just as good as chasing him, and he won't like that. Be very careful. Remember, he's looking for a woman who will be his best friend and partner all rolled into one.
Trying to figure out how to get a Pisces man to chase you is a complicated process, and it might be best if you let go of the idea. Even when a Pisces man is playing hard to get, it doesn't mean you should chase him!
Win Your Pisces Man's Heart In Just 30 Days…
If you're tired of feeling frustrated and unsure about where you stand with your Pisces man, then listen up.
Most dating advice out there won't work with a Pisces man. They're different than men of other signs, and if you try to use standard dating advice, it can backfire.
But don't worry, there's a simple solution. You just need to know the specific phrases to tell him that will make him never want to lose you.
In just 30 days, you can turn everything around with him and have him chasing after you.
These phrases are the key to unlocking his heart and getting your Pisces to commit <<
Don't waste any more time feeling insecure and unsure about your relationship. Take action now and learn the secrets to winning over your Pisces man.
Click here to find out the specific things your Pisces man needs to hear to make him chase you and fall deeply in love with you <<
Wishing you all the luck in the Universe.
Your friend and Relationship Astrologer,
Anna Kovach