Pisces men are so dreamy, romantic, sentimental, empathetic, and spiritual… So, what does a Pisces man like in an Aries woman? There are several things that I want to share with you!
Does this Pisces man really want you, or is he just playing around? I have some sure-fire tips to help you learn what attracts him to you, my darling Aries. Keep reading to figure him out!
What Physically Attracts A Pisces Man To An Aries Woman?
The first thing two people notice in each other is their physical appearance. Pisces men love beauty and when you're a beautiful woman, he's drawn to you right away.
If you two met online and haven't met in person yet, he's looking at your photos or your videos so he can really enjoy your gorgeous face!
Looking at you also gives the Pisces man a spiritual feeling. He can feel if you're someone who he can see himself being with or not. This is a natural attribute that Pisces man has with his intuitive abilities.
I also want to mention here that it's a very natural occurrence for a Pisces man and Aries woman to fall in love at first sight.
If you can feel this already, then you know exactly what I'm talking about. Talking, you learn more about each other and the more you fall in love.
Now of course, if you're trying to lure a Pisces man in, it won't be too difficult for you if he's single and available. He's naturally drawn to Aries women.
I recommend wearing dreamy colors around the gorgeous Pisces man. You can wear flowing shades of blue, green, teal, and sea colors. You can wear a complimentary scarf to enhance your outfit.
When you're trying to lure him in, make sure your makeup is gorgeous and your hair looks amazing. He'll love the effort you put in for him.
That's how easy it is for an Aries woman to lure in your Pisces guy…
How Well A Pisces Man Bonds With An Aries Woman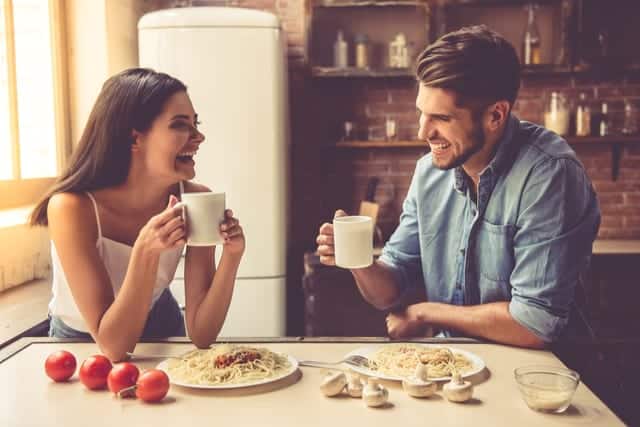 Typically, an Aries woman loves how soft, gentle, and understanding the Pisces man is. This really draws her in to fall deeply in love with him.
The Pisces man happens to love a woman who is driven and inspirational. This turns him on in a big way. He also thinks independence is incredibly sexy.
As an Aries woman, you are strong, motivated, and courageous, as well as aggressive in the right way!
The Pisces man thinks this is incredibly appealing, as he needs a strong woman who can handle his moods and can help motivate him to take action to realize his dreams.
He sometimes gets caught up with his head in the clouds. Aries can snap him back into reality and teach him how to go for it.
Basically, what I'm trying to say here is that what attracts a Pisces man to an Aries woman is the possibility you two have of complementing each other with your different traits.
The bond that a Pisces man and Aries woman has is built upon the puzzle pieces fitting in the right places. You two have that perfect fit!
How A Pisces Man And Aries Woman Understands Each Other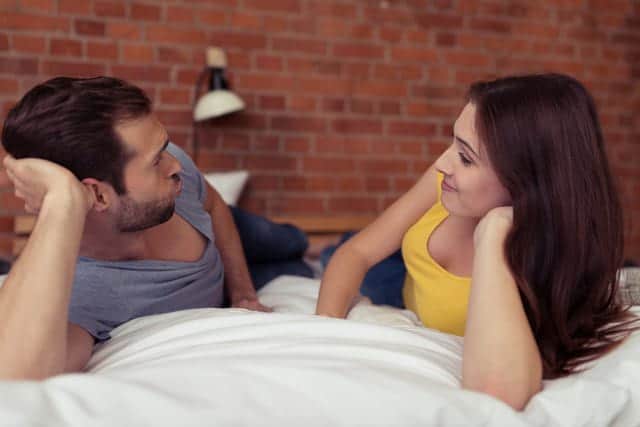 These two signs get along so much better than one would think. Pisces and Aries are pretty different, but the differences are something that both can work with. Even better, you two can appreciate each other.
An Aries woman will have to get to know the Pisces man's moods and know how to deal with him. She doesn't normally like much drama. This could cause some arguments here and there.
The thing is, as an Aries woman, you'll know how to intellectually approach it and give him solid advice. Just be sure you ask him if he wants it first. He doesn't always want it.
Communication will be work, but when your Pisces man trusts you, he will always be fully honest and open. That takes time.
My lovely Aries lady, you aren't always patient… and this is something that your Pisces man can and will teach you if you plan on sticking with him.
Sometimes a Pisces man can be a "yes" man instead of standing up for his convictions. You won't dig that. It will seem annoying that he agrees with you on every subject, even if he doesn't really.
This is where Aries' strength comes in and you're able to teach him to stand up for himself and tell you what he really feels. The more he does this, the more he'll apply this to the other facets of his life.
He will teach you the art of peace, tranquility, and daydreaming. Together, you two are a force to be reckoned with.
You'll be able to make your dreams come true, and he will learn how to take the action necessary to make them come true as well. It's a beautiful union of understanding between the Pisces man and Aries woman.
This dynamic is one of the things that attracts a Pisces man to an Aries woman for sure!
The Attractive Love Affair Between A Pisces Man And Aries Woman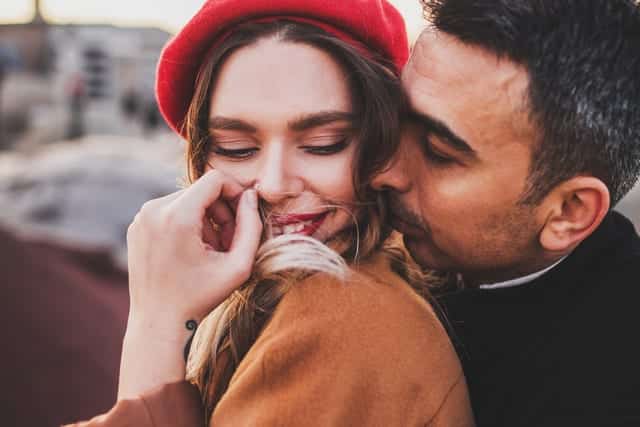 Quite honestly, the Pisces man and Aries woman is a near-perfect match. Even if there is ever any trouble in paradise, these two really "get" one another; which helps them learn how to act and react.
The Pisces man can actually see through an Aries woman's upset feelings. He'll know the difference between hurt and legitimate anger. He will understand why and he'll provide her with loving comfort.
An Aries woman will help a Pisces man start to take charge of his own destiny. She'll teach him to have more of a backbone when it's necessary.
He will love her deeply and she will care for him in the ways he really needs. The two are yin and yang. No doubt how perfect these two can potentially be with one another.
Yes, they have to work at it and they have to totally get to know each other on the deepest levels, but they can and will succeed if they're willing to do the work.
My understanding is that they fall in love so deeply that they'll do just about anything to stick together. They will be there for one another through thick and thin.
It will seem as though the Pisces man is obsessed with the Aries woman. He puts her on a pedestal, makes his life all about her, and dreams about their future together.
This is a healthy obsession with the two of them because she will love the attention that he gives her. She wants that sweet and romantic love. She doesn't mind losing herself in a good fantasy sometimes.
The Pisces man is the right one to have fantasies with. This applies to the bedroom as well, by the way! They're a dynamic duo when it comes to intimacy.
What attracts a Pisces man to an Aries woman is a pure, animal-like attraction which is something they definitely have. They are pulled to one another like two magnets.
Yes, There Is More You Need To Know About The Pisces Man!
Look, there is a lot I couldn't fit into this article but lucky for you, I've written a guide about this sensitive guy.
There are some issues you need to know about and how to deal with them.
If you're into a Pisces man, there are some basics that will help you draw him in and keep him interested.
The relationship isn't totally perfect – it takes time and it takes work.
Are you wondering whether or not he's really interested?
He can be a big flirt, that much is true.
There are things you should learn that will show you if he really wants more than friendship.
As an Aries woman, you need to learn everything you can so that your relationship will be a huge success.
If you try to do this on your own without learning all I can offer you, you'll fall short and may have this situation blow up in your face.
I don't want that to happen to you. I want you to secure your Pisces man and fall madly in love, get married, and have beautiful babies.
I want you to write in and tell me how amazing your love life is with your Pisces guy!
If you are ready to put the work in and study more about the Pisces man, click here right now!!!<<
Look, you can try to figure him out on your own if you want, but I can guarantee you'll get frustrated.
You might react to him in the wrong way and end up losing him.
You could even hurt his feelings without knowing you did or knowing how to fix it.
Please let me help you with what you need to know to avoid certain situations and how to deal with the things that do happen.
Love can definitely be amazing for you and your Pisces man.
Take the risk and gain everything!
Click this link right here right now and you'll get what you need!<<
I wish you all the luck in the Universe. You can do this!
Your friend and Relationship Astrologer,
Anna Kovach