Chances are good that you're madly in love with a sexy, gentle and dreamy Pisces man, and who can blame you? These gentlemen know how to make a woman weak in the knees like no other. But what can you do to make a Pisces man feel special, especially around big gift-giving days like Valentine day, Birthday or Christmas?
It can be quite a difficult task to know what are the best gifts for a Pisces man because there is nothing straightforward or simple when it comes to these gentlemen. You might think a Pisces man is all empathy and no play, but actually, this gentleman definitely knows how to have a good time.
If you're confused about what to do when a special occasion comes around then look no further than this article. I'll help you find the best gifts for a Pisces man to make him fall in love with you even deeper. Continue reading to find out more on how to surprise a Pisces man.
Getting Your Pisces Man a Gift — How To Surprise Him
Pisces men are very sensitive, caring and understanding. They like practical gifts that make their lives a lot easier. It can be challenging to know what would be the perfect gift to get a Pisces man.
These guys tend to be quite private and don't really like it when people know all of their business. This is why big surprises in public places are probably off the table. Keep things simple, it is the thought that counts with your Pisces man.
When wanting to impress a Pisces man with your gifts, think in terms of being helpful or practical. Don't get him anything too complicated, however, if you can afford it, a nice luxury gift could be really nice for him. This is a man who cares about his  image.
And then, of course, you have heard the rumors about Pisces men, yes, they are very sexual – very kinky but it isn't something they express to the world too much. So if you can somehow incorporate this into your gift giving you have definitely struck gold!
So the things you need to remember when getting your Pisces man a gift is to keep things private and be sentimental and thoughtful, but you could also indulge his kinky side and get him something sexual, that is the kind of surprise he might enjoy.
Do Pisces Men Like Getting Gifts?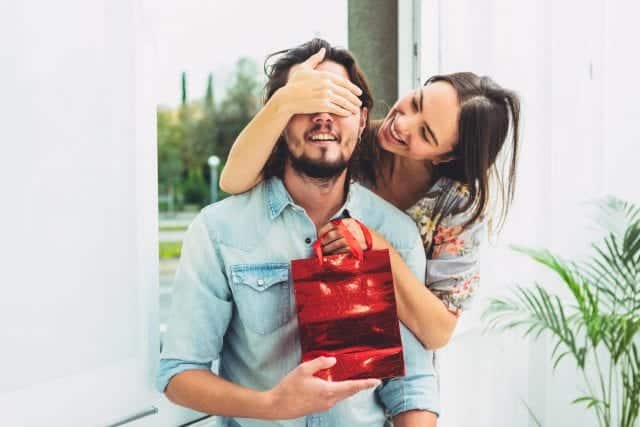 Who doesn't like receiving gifts? Although Pisces men might not come across as materialistic like a Taurus, Leo, or Libra man might, there is a part of a Pisces that likes ownership and possession, especially when he is in love with a woman. Affection is very important to him.
Although gifts aren't that important to a Pisces man, he does like feeling valued and seen for all the things he does for others. So gifts can definitely make him feel special.
And this is how Pisces men enjoy their gifts, it needs to be sentimental and meaningful. It needs to be a reminder of how you feel about him, and proof of your love. Gifts for a Pisces man are a lot more meaningful when they can be practical.
So to answer the question in short, yes, Pisces men do like getting gifts, but it can't be thoughtless or without any meaning and it should have a practical element to it.
5 Best Birthday Gifts For a Pisces Man
1. A Classic Watch
Pisces men are one of the few signs that will still value having a lovely and timeless (no pun intended) watch. He loves tradition, you see, and watches are still part of that traditional world.
Of course, it can be a big deal as watches tend to be expensive, so choose carefully!
Luckily, this is the type of gift where, if you choose it right, it can last a lifetime and consistently remind him of you, every moment and every hour! Go ahead and splurge if you can — he will appreciate it!
2. A Quality Clothing Staple
Back in the day, I would have advised you to get a fancy suit for your high-flying Pisces fella! And if he's in the corporate world, this is still a great gift for him!
Every man needs a good, tailored suit to make him feel on top of the world!
Of course, if he's not that type of guy, he'll still appreciate a high-quality shirt, a great pair of jeans, or another item of clothing that's both practical and stylish.
He can always tell if the clothing is high-quality or not, so be careful of skimping here! The typical Pisces man can be very fussy about what he wears.
Usually his colors of choice are black, gray, and dark blue, so it's a safe bet to go muted rather than bright when it comes to choosing the perfect garment.
3. An Organizer
Most Pisces men are very career-oriented, or at least goal-oriented.
He will appreciate a lovely planner, diary, or organizer of some kind, whether digital or paper planner. Paper planner is usually better for him, though, as the typical Pisces man likes to have something tangible in his hands!
This guy is often a fan of leather goods, so buying a supple leather-bound diary will be a win for him!
You can also get him a fancy pen to match, which he will deeply appreciate—or a fancy pen plus refills if you know he already has a planner he loves.
Going ever further, you can emboss the leather or the pen with his birth date or name, as long as it's subtle — these men don't like glitz or glam!
4. A Bluetooth Speaker
Many Pisces men really enjoy music in their lives. They might even play an instrument but likely at least have a vast music collection, whether vinyl or in other forms.
Many people don't know that while succeeding in the material world, the Pisces man is also quite creative and mystical. Music helps him to tap into that side of himself and find an outlet for his stress and tension.
If he doesn't already have one, a portable speaker is one of the most perfect gifts you can get for him! Not only is it practical (which he loves), but it's also a way to have more of what he enjoys! Make sure that it's a brand with a good reputation, and you're all set!
5. A Kindle or E-reader
Does your Pisces man have an e-reader yet? If he doesn't, that can be quite a nice surprise.
He likely loves to read, and he enjoys information in any form. He'll find a Kindle both efficient and practical, qualities he holds in high regard!
If you're feeling generous, you may even get him a few books to add onto it, or a voucher for a digital bookstore. Try getting him a mix of your own favorite books and ones that appeal to his interests.
Perfect Gifts To Get Your Pisces Man For Valentine's Or Anniversary
1. Sexy Lingerie (For You)
There's no doubt Pisces is one of the sexiest signs in the zodiac – it is so hot how he can command attention, he definitely has daddy energy! It's no secret that these men love nothing more than to get down and dirty with you when they have a moment's break from work.
Get yourself some super-sexy lingerie for yourself as a gift for a Pisces man! It's a win-win situation for both of you – you get some fancy new clothes, and he gets a gift that keeps on giving – YOU!
How do you know what he likes? Pisces also enjoy lace and leather. This sign is extremely kinky – who would've thought? Get something that will look like his ultimate fantasy.
Make sure that you don't skimp on the accessories, a flogger, suspenders, or thigh-highs will tantalize him and leave him beaming with delight! Taboo doesn't scare off your Pisces one bit.
2. A Romantic Weekend Away
Pisces is such a hard worker, he will go and go and won't stop unless he has to. This sign has a really hard time relaxing and letting go. He kind of needs to be forced into taking time off.
This is why one of the perfect gifts for a Pisces man is a romantic weekend away. This will be the much-needed push to get him to relax and destress. This is probably exactly what your Pisces man needs.
It will be a smash hit for you when you surprise your Pisces sweetheart with a delicious, intimate, and hopefully very relaxing weekend away.
It would be an even better experience if you could arrange a hot tub, a huge bed, and complete isolation. Pack your sexiest underwear, and plenty of wine, and get ready to go to all kinds of interesting places with your Pisces guy. This is another win-win!
3. A Delicious Bottle of Wine
As I've mentioned countless times before, a Pisces man is very subtle and likes to be noticed for his exquisite taste.
And this is why a beautiful bottle of wine is probably one of the best gifts to give a Pisces man. Wine is one of his favorite stress relievers. He has a lot on his plate and needs to find ways to relax and let go – wine certainly helps with this.
A good-quality bottle of red wine will suffice for the Pisces man, who is equally deep inside. I can tell you right now that this is a guy with refined tastes, who loves throwing back a couple of drinks. If you really want to go all-out, my suggestion is to whisk him away to a winery (if you have one in your area) and let him do the choosing. Your Pisces man will find this very impressive!
Watch which wines he particularly likes and sneakily order a case to be delivered to his door when you get home. This will blow his socks right off—plus, you'll get to share in the bounty! Perfect!
4. A Fancy Dinner
Your Pisces man knows how to play hard. There is nothing he loves more than being spoiled rotten and enjoying life's finest. Dinner at a very fancy restaurant is exactly his idea of a good time.
A Pisces man is a water sign, this means that he loves to indulge his senses, and this is what makes him feel safe. So if you can feed him with an amazing meal, your Pisces man is going to be very happy.
Treat him to the best restaurant in your city! He'll absolutely love the status and recognition that comes with being able to enjoy such a fancy meal. This man loves luxury. So be sure to spoil him rotten for those special occasions.
5. A Coffee Machine
You've seen your Pisces man, he needs a lot of energy to get through his long days.
There is no better gift for a Pisces man than a state-of-the-art coffee machine to give him that energy boost whenever he needs it. He'll absolutely love this gift and will get extremely excited knowing he can make his favorite coffee drink whenever he needs an extra kick.
Whenever he has a cup of coffee he won't be able to help but think of you! You'll be on his mind every morning – aren't you lucky!
5 Gift Ideas To Get Your Pisces Man For Christmas
1. Business Books or Courses
Career-oriented Pisces men are always looking to get ahead in the business world.
They want to be the very best at what they do, and they are usually high-fliers! If your Pisces guy is in the entrepreneurial world, one of the best gifts you can get for him (digital or hard copy) is a book on business or productivity.
What's even better is a workshop or course on building a business or improving his career skills. This gift will have him practically eating out of your hand, and he'll love that you support his professional goals!
2. Anything Practical
Even being a water Zodiac sign, Pisces men appreciate practical gifts. They really don't want to receive presents that are ornamental or useless in any way—and they prefer if the gift can be used in some way to improve their lives.
DIY gifts can be very helpful, as well as things that are both beautiful and have a practical use (gold-plated bottle opener, anyone?).
Pisces men will especially love gifts that are somehow traditional. For example, an antique office chair that's both comfortable and lovely.
Keep this in mind as you shop for your Pisces fella—he is fussy, but it's all worth it when you see the look in his eyes and feel his appreciation when you get him the perfect item! Don't be afraid to spend a little if it's in your budget, it will remind him of you forever and keep you close to his heart.
Now you have my top ideas for getting that special Pisces man in your life the perfect gift to show him how much you love him.
3. Framed Art
These guys love to preserve and honor their icons, Pisces men are a lot more sentimental than what they get credit for. They are all about the preservation of time and traditions.
There are usually one or more iconic figures they love to revere in private who inspire them to work hard and fulfill their goals. Getting artwork reflecting this character, historical figure, deity, or representative will draw him closer to you. It will feel like you are in on his secret and he's sharing it with you.
This shows that you listen to who is most important to him. This shows the attention to detail you pay attention to and that you are willing to make him feel special and loved.
Remember, they love to make their mark and look up to people or figures that have already done so. They are attracted to strength, power and sometimes prestige. Framing a piece of art will satisfy his creative side and will make him feel like you care about what matters to him.
If you can manage to find out who his favorite artists are, you can try to find him something from them. He would be floored if you actually took time to look for his favorites.
Also, if you know what his style is in his home, you can find something that will fit right in. Metal art is really neat and he might get into it but again, watch his preferences via his home or office.
4. A Massage At A Spa Day
Stress is a major issue for most Pisces men as they never switch off and take the time to relax. They make things really difficult for themselves and then end up burning out because they never destress.
You can choose to be a masseuse for a day or treat him to a massage at your local spa! Give his sore muscles special attention. Spend at least an hour kneading his entire back.
They need to feel connected to you on a physical level which can lead you to a closer relationship with them. Intimacy and affection can be difficult for a Pisces man to access.
If you aren't confident with your hands, perhaps setting up a couple's spa day to enjoy the time you can spend with him in bliss may be the way to go.
Pisces men carry lots of stress in their shoulders and upper back due to anxiety and carrying the weight of the world on their shoulders. Setting him up for a massage will help him.
He would be able to totally relax, heal, and will appreciate your care for his well-being. He will look to you as someone who truly cares about his stress. This will earn his trust.
5. A Beautiful Travel Bag
Your Pisces man is very busy with work and often has to jet off to all kinds of destinations for work. Make his life a lot easier by getting him a beautiful travel bag that can stand the test of time.
Try to find something that is beautiful, but can endure all kinds of traveling. Remember that your Pisces man loves things that can last a lifetime and that have staying power. Longevity is very important for a Pisces man.
Whenever he goes on a business trip he won't be able to help but think of you when he uses this bag. This is a very clever tactic to make a Pisces man miss you.
A travel bag is one of the best gifts you can give a Pisces man. It is practical as well as very thoughtful. This guy is lucky to have a special woman like you.
The appeal is to let your Pisces guy feel as though he's really important to you. Gifts are a sweet way of showing your heart to him.
Keep your man's desires and passions in mind when you're trying to find unique gifts for a Pisces man. Get to know him and what he really loves and you should be able to do quite well.
Did your Pisces man fall head over heels for you for getting a gift he loved? What did you get him and how did you approach it? Tell me all about it!
Share your story (or situation) with our community in the comment section below (don't worry, it's anonymous).
Normal Dating Advice Can Backfire With A Pisces Man
Over the years, I've had a lot of my clients send me advice they got from dating coaches.
They wanted to know if it would work with their Pisces man.
And I literally wanted to scream with frustration.
Why???
Because most dating advice definitely will NOT work if you use it with a Pisces.
You see, Pisces men are VERY different than men of other signs.
And if you use standard dating advice with a Pisces, it can backfire.
He might disappear forever and you'll never hear from him again.
I don't want that to happen to you.
Especially when it is SO easy to draw him to you and get him to connect deeply with your heart.
You just need to know the specific phrases to tell him…
So he'll NEVER want to lose you.
He'll be wrapped around your finger…
And it won't take him long to put a ring on that finger either.
These phrases are the EXACT thing you need to turn everything around with him.
So… for heaven's sake… DON'T listen to normal dating coaches!
They give out the same advice for ALL men… which is absolutely insane.
Because your wonderful Pisces is NOT like other men… at ALL.
So go here now to find out the specific things your Pisces man needs to hear to melt his heart.
Wishing you all the luck in the universe,
Your sister and Relationship Astrologer,
Anna Kovach
---
---