Ladies, how are you? What did you think of February? Full of love and romance I hope! The month of March is probably the most important of the year, so hold on to your bootstraps because the world and your Pisces man are about to change. Everything is about to change!
Jupiter and Venus are both in the sign of Aries this month! Your Pisces man is going to experience a lot of luck and blessings when it comes to the area of wealth and personal resources. This is a great month for his pocket, and unexpected windfalls may come his way.
The Full Moon in Virgo on March 7 will give a boost to your Pisces man's committed relationships and partnerships. Something is coming to a head in his one-on-one connections. A very good time for him and his commitments. 
Saturn enters Pisces on March 7 which is going to bring massive changes to the world and your Pisces man is most definitely going to feel this in the area of his body and who he is at his core. Having Saturn in his sign is going to be a challenge, but ultimately he will come through this victorious.

Pluto enters Aquarius on March 27 and this brings a turning point in the world as this planet is going to stay in this sign for the next 20 years. The changes will start out subtle, but a very big shift is about to take place in the area of his spirituality, subconscious, dreams, as well as his fears.
Since it's his birthday this month, you might want to check out 15 Gift Ideas for a Pisces man.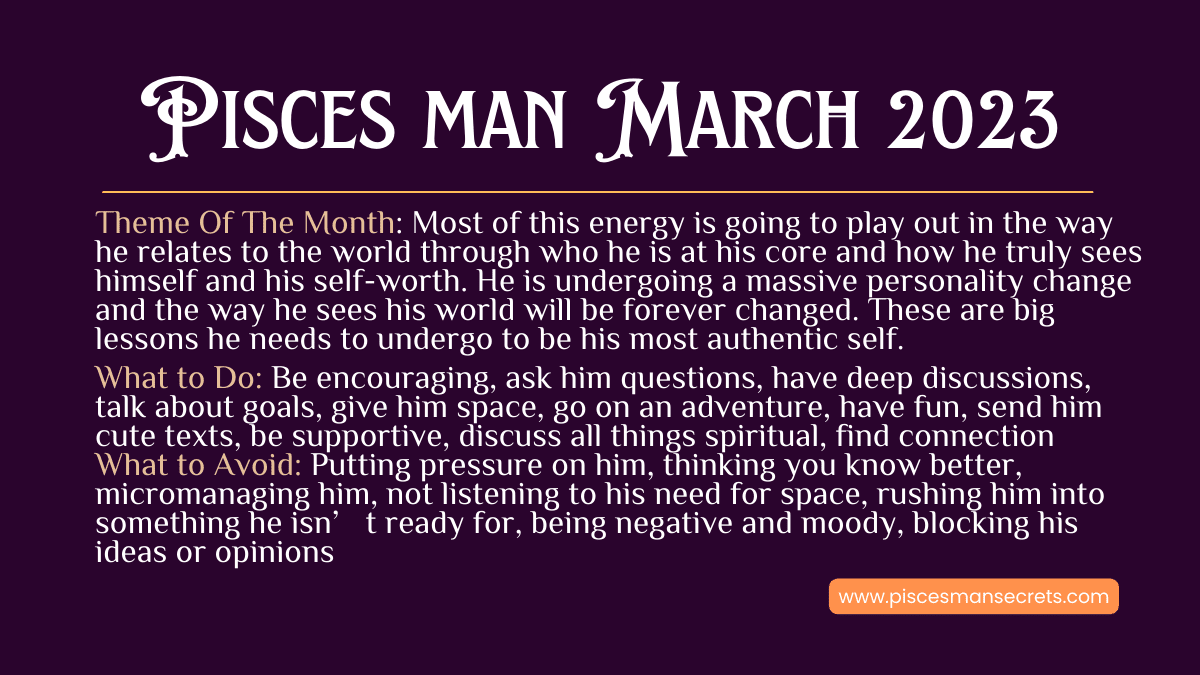 Theme of the month: A lot of change is taking place for your Pisces man this month. He is on the cliff of a huge transformation and he may not even recognize himself after this process. Most of this energy is going to play out in the way he relates to the world through who he is at his core and how he truly sees himself and his self-worth. He is undergoing a massive personality change and the way he sees his world will be forever changed. These are big lessons he needs to undergo to be his most authentic self.
Magic Phrase: "You make me want to be the best version of myself"
Text Magic: "I love the connection we share"
Do: Be encouraging, ask him questions, have deep discussions, talk about goals, give him space, go on an adventure, have fun, send him cute texts, be supportive, discuss all things spiritual, find connection
Avoid: Putting pressure on him, thinking you know better, micromanaging him, not listening to his need for space, rushing him into something he isn't ready for, being negative and moody, blocking his ideas or opinions
Access your Pisces Man's Full 2023 Horoscope Here
Money, Money, Money
Your Pisces is a very lucky man this month, especially because Jupiter, his ruling sign is sitting in his money house, with Venus, the planet that rules money! This can only mean one thing and your Pisces man is going to get some unexpected monetary blessings from above. 
He may also notice his self-worth and self-esteem increase over this period and it is about time that he realizes his worth. This is exactly what he needs to feel a boost of confidence, especially if he's had a bit of a difficult time recently. 
This is a really great time for your Pisces man to enjoy himself and treat himself to something special. If you know he has had his eye on something recently then I would urge you to encourage him to get it.  
It is important that he treat himself because sometimes Pisces men can get stuck in the habit of doing stuff for others and not taking care of themselves. Self-care is exactly what he needs right now and it will do him a world of good.
Relationship Shifts
A big culmination is happening in your Pisces man's 7th house of committed relationships when the Full Moon happens in Virgo this month. There is an opportunity for him to solidify a union with someone else. 
This could be in his romantic relationships, but it also may very well happen with his business partnerships. He may strike a deal with someone he just can't refuse, or he may also choose to take things to the next level with you. 
This is a big change for him, but an exciting one at that. This is an opportunity he knows he can't miss and the last 6 months have been building up to this point.  Commitment can be scary for a Pisces man, but he knows that it is worth it!
Identity Crisis
The next 3 years may feel quite tough for your Pisces man because Saturn, the planet of restrictions and limitations is about to enter his sign and this can feel pretty uncomfortable for the next few years. 
Saturn can be very imposing and make him face reality about himself in ways he never knew he needed to. This is going to be one heck of a reality check. Everything he thought about himself might be tested. 
This is ultimately a positive experience, or at least, it should be, but if your Pisces man is resistant to the lessons of Saturn he may really struggle and get hit even harder through Saturn's karma. 
It is important that your Pisces man face himself, and wake up to the truth of his life. He is undergoing so many changes and if he can embrace them he will be a much happier and more content person. 
There is also a good chance that you will get the chance to be with a Pisces man who is more structured and understands responsibility and structure in a way that will enhance your relationship.
Spiritual Uncovering
Quite an awakening is taking place in your Pisces man spiritual life, and that is saying something because it isn't uncommon for Pisces men to be quite spiritual and in tune with a higher power. 
But, Pluto is about to enter Aquarius and your Pisces' man's 12th house of spirituality, dreams, and the unconscious for the next 20 years! This is going to be quite a process of uncovering and healing for your Pisces man. 
Pluto loves to dig deep and enjoys depth, rebirth, and transformation. This may be the opportunity for your Pisces man to really get in touch with his spiritual gifts or psychic abilities. He simply cannot escape this calling that is within him. 
Pluto is a planet that also very much enjoys research and uncovering the truth, so you can expect your Pisces man to fully immerse himself in his spirituality and healing. This can be quite tough, but this transit was made for him to uncover his true calling. 
Want to get the guidance to be his dream woman in 2023? Take a look at Pisces Man 2023 Secrets here.
My Final Thoughts
And there you have it my darlings, if this hasn't quenched your thirst, you know where to find me, same place, as always.
March stands to be quite an exciting month for Pisces man and his companion, so make sure that you're prepared for better or worse, and that you sharpen that sensual spirit within him. Be his rock and don't take his changes personally, remember these changes are happening to you on some level as well. 
The two of you should be able to work together as a team to grow closer. Allow the energy of March to unfold naturally, and do your best to try and not control the outcome. Life is much easier when you can accept the shifts and live in the flow of the moment.  
This is a month of major changes and it may feel like a bit of a rollercoaster ride, but if your own spiritual practice is sound and strong and you know how to soothe yourself, then dealing with the changes of your Pisces man shouldn't knock your confidence too much. 
Ask him how you can support him and what he needs from you, but don't forget about your own needs and take care of what you need first. Neither of you is ever going to be the same, but it is better if you can manage to grow together instead of apart. 
So have fun, go wild, and I'll see you next time around, 
Wishing you love and luck with your Pisces Man, 
Your sister and relationship astrologer, 
Anna Kovach
---
---