Hello, my lovelies, how's the mood? Are you up for the Pisces man's forecast? I hope you are because this is a must-read if you ask me! Once you're done reading it, leave your thoughts and impressions down below, I'm dying to read them. 
The first week of January will be quite intense for the Pisces man. He might experience a nervous breakdown in traffic, at first, then his family will get up in his business, and then, finally, a Full Moon in Cancer might lead either to a very well-spent night indulging in all kinds of kinky hunger games or to a breakup with his lover. 
The second week offers a lot of sensual and kinky opportunities for having fun and exploring each other's imagination. Take this week off, and make a promise of pleasure to both yourself and him. This will be the time of your life, one that you surely won't forget any time soon. 
The third week of January offers a good opportunity to explore his mind and his friend circle. Since he hangs out with a lot of weird, unique, and artistic individuals, you might have the time of your life meeting them and spending time with them. 
The fourth week offers a great opportunity to plant the seeds of love and longevity in his subconsciousness on the 21st when the Super New Moon takes place. Saturn and Venus are also in a tight aspect, which makes this New Moon excellent to start something you want to last for a (very) long time.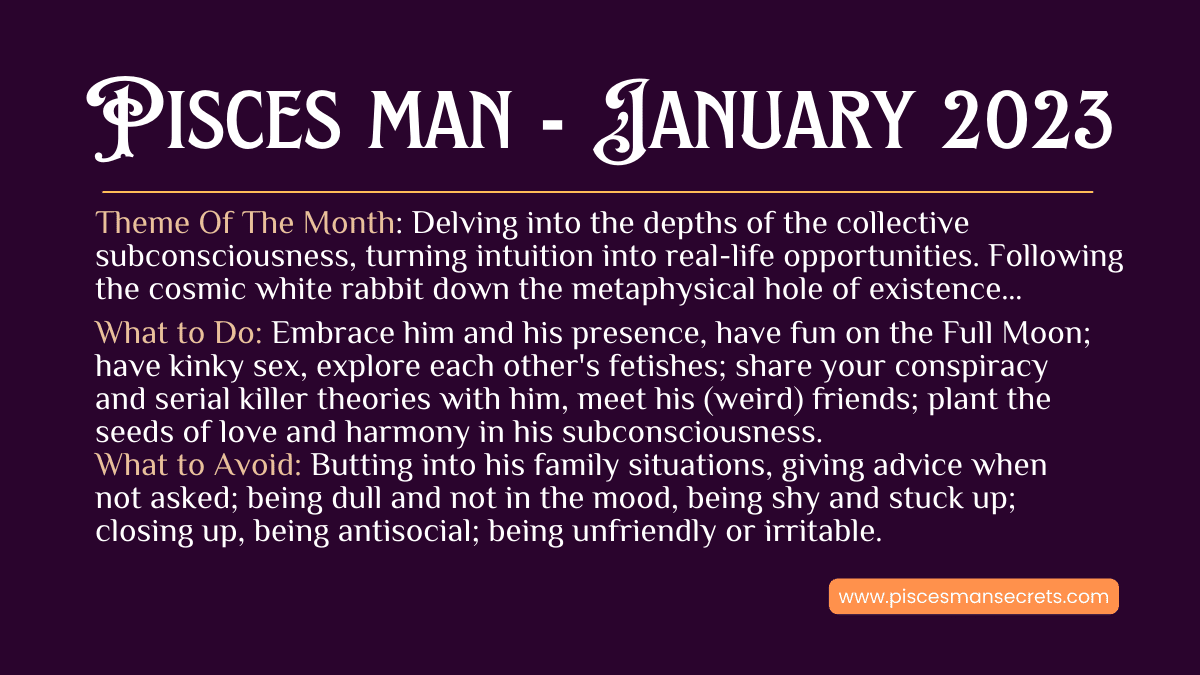 The Theme Of The Month: Delving into the depths of the collective subconsciousness, turning intuition into real-life opportunities. Following the cosmic white rabbit down the metaphysical hole of existence… 
Magic Phrase: Babe, I'd love to ride your magic stick, but can you please make it less ethereal and more corporeal? 
Text Magic: Sweetie, you left your dreams and occult musings on my night shelf, can you please come to pick them up, and also help me decipher the symbols from my dreams? 
What to Do: Embrace him and his presence, have fun on the Full Moon; have kinky sex, explore each other's fetishes; share your conspiracy and serial killer theories with him, meet his (weird) friends; plant the seeds of love and harmony in his subconsciousness. 
What to Avoid: Butting into his family situations, giving advice when not asked; being dull and not in the mood, being shy and stuck up; closing up, being antisocial; being unfriendly or irritable. 
Access Pisces Man's Horoscope here –> Pisces Man Secrets 2023
High Voltage
The first week of January highlights the Pisces man's area of communication. It'll be wise of him to pay extra attention in traffic at the start of the month, not to put the pedal to the metal, and to watch both sides of the street when he's crossing it. 
Next on the menu is his home life as the Moon moves from Taurus to feisty Gemini, plus there it'll make conjunction with Mars Retrograde, so you know that quarrels and misunderstandings are bound to happen in his home or with his family. He's not going to be in a very good mood in the middle of the first week. 
This can be a good thing, as he will turn to you in order to raise his dopamine levels, so you can be prepared and embrace him with open arms. It's also possible that he'll want to crash at your place at this point in time, so be ready for that scenario as well. 
On the 6th, there's a Full Moon in Cancer, and this takes place in the Pisces man's fifth house of fun and sensual pleasures, and this is an excellent transit for your love life. You can use insomnia and a charged-up atmosphere to really get down and be kinky with each other. 
It's All About That Hot, Steamy, And Kinky Sex
The second week throws focus on his daily routines, job, and health, as well as his partnerships and love life. This is a good time for him to come up with ways to take better care of his body and his cardiovascular system. 
As the week progresses, he will feel compelled to spend time with his lover or partner, and this is a great opportunity to do something intellectually and mentally stimulating together. But also, to indulge in heavy kinkery and fetishes you've been saving up for days. 
As the second week draws to a close, his eighth house of intimacy and sexual deviations will be highlighted, and he will be in need of some hide-and-seek type of adrenaline. So you can compromise, either rent a room in a themed hotel (le sci-fi or dungeon style) or have a sexual encounter in a public place under the threat of being caught, which ought to get his panties twisted and in a bunch, properly.
Hit Me With Your Best Conspiracy Theory! 
The third week puts the Pisces man in a pensive and philosophical mood. His mind will work in ruddy mysterious ways, and he will be in the mood for all kinds of conspiracy theories and serial killer talk. This is a good time to get him hooked on your ideas and how your (dirty) mind works. Don't forget to flirt with your eyes. 
In the middle of the third week, his focus will switch to his career and public life, and since this takes place in cheery Sagittarius, he might be called on all kinds of various team-building projects. This is a good time for him to practice his people skills, and to exercise the extent of his intuition. 
When the end of the third week approaches, he will focus on his deeper friendships and meaningful connections, which will offer an opportunity to spend some time with his friends and close acquaintances from whom you can hear a lot of interesting stuff and learn some very weird things. 
New Possibilities For Love And Gratitude 
The final week kicks off with a Super New Moon in Aquarius, in the Pisces man's twelfth house, and this is an amazing opportunity to plant the seeds of whatever you want, at the very moment when his consciousness expands. 
Since Venus and Saturn are joined together, this is also an excellent moment to integrate the longevity and everlastingness of your relationship in the best and most intelligent way possible. 
As the week progresses, his first house of self will be illuminated, and once again you're provided with the opportunity to make him feel good and make him never forget your presence. You have a chance to integrate yourself as a very pleasant and desirable factor in his daily life. Don't ignore it, be free and creative about it. 
Final Thoughts 
And there you have it, my lovelies, the Pisces man's January in a nutshell; I hope you make the best use of this confidential info and make the best fairytale story for yourselves. 
His mood will be testy at the very start of the month, but as the Moon progresses through the signs, he will focus on prettier and warmer topics on these cold and windy days. 
The third and fourth weeks are especially potent and lively when it comes to his love life, and the second week offers very good opportunities to explore each other's bodies as well as the psyche. All you have to do is be willing and open for all kinds of emotions to come to the surface. 
Three rare transits in 2023 will shake him up heavily but also offer you an incredibly powerful opportunity to make your bond with him stronger than ever…
These planetary transits will play with his subconscious, and he won't even be able to grasp why he's suddenly feeling different.
That's why you need to understand what's happening inside of him and know how to position yourself through the different phases your Pisces man will go through in 2023.
When you align with his subconscious needs, he'll have no other option but see you as the only woman that ever got him.
Want to be the only woman he ever needed? In his most challenging, but also in his most fun and beneficial times?
Then make sure you go ahead and grab the opportunity to prepare for 2023 on time. Check what I've prepared for you in the link below.
–> Make Your Bond With Pisces Man Stronger Than Ever in 2023
Stay creative, free of mind, and free of spirit. Until next time, my darlings.
Love and light,
Anna Kovach
---
---