Hello my lovelies, how are you, and how's the mood for February? 
I hope you are doing well and are feeling the end of all retrogrades we had entering this year. How did January treat you? Tell me all about it in the comments, but before we get to that part, let's dive into the Pisces man's horoscope for the most romantic month, now shall we?
1st week offers a good time for your romantic plans, and even if gets a bit dramatic during the Full Moon, it's all theatrics, he'll be back in his good mood in no time. 
2nd week offers a proper time for romcom activities and for the exchange of life philosophies. Just don't be put off by him being triggered by the nonchalant comments of his neighbors/siblings. 
The start of the 3rd week should be fun, so give it your best to make it easygoing and pleasant, for the rest of the week looks gloomy… 
Final week holds the promise of the Super New Moon in Pisces, and also a potential to become something more between the two of you.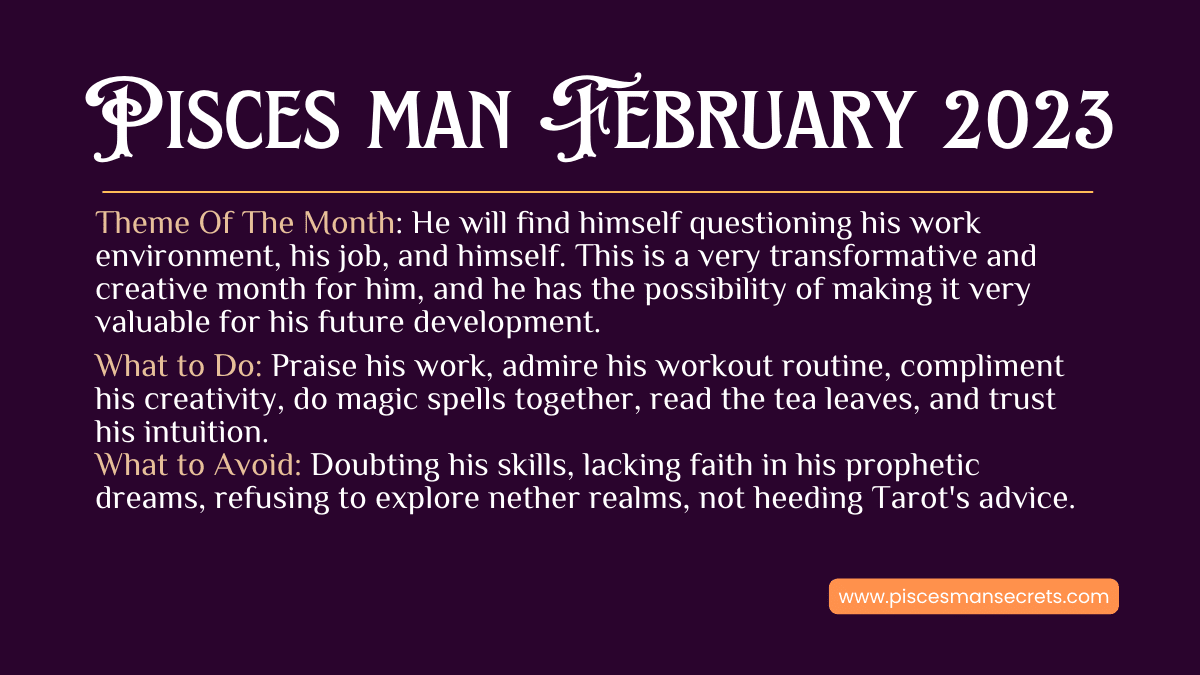 Theme of the month: Pisces man will find himself questioning his work environment, his job, and himself. This is a very transformative and creative month for him, and he has the possibility of making it very valuable for his future development. 
Magic Phrase: "honey, tell me what is coming, and what you saw in the last night's dream, tell me what your intuition tells you, and what kind of whispers are you picking up from the wind?" 
Text Magic: "How are things going babe, do you need me to come by and bring a [what he might need] to your work?" around the 5th, and "You are one of the most precious and creative people I've ever met" around the 20th.  
Do: praise his work, admire his workout routine, compliment his creativity, do magic spells together, read the tea leaves, and trust his intuition. 
Avoid: doubting his skills, lacking faith in his prophetic dreams, refusing to explore nether realms, not heeding Tarot's advice. 
Access Pisces Man 2023 Horoscope Here
Homy and Loving
At the start of the week, Pisces man's focus will be spent on home and family matters; it's not easiest being in his home at this point in time, and his mood will tell you volumes about it. There's a lot of harshness and conflict inside his home, and he'll need a place and a hug to recharge. 
When the Moon progresses into Cancer, now that will be a great time to get lovey-dovey, and to enjoy each other's company in a fun setting; this is a great time to go out on dates, to spend time near water, and to kiss beneath candlelight. 
On the 5th, there's a Leo Full Moon, and this is a great time to switch up his daily routine. There might be a dramatic emergency at his work, or he might get in a row with one of his colleagues, but either way, it's not a very 'tragic' transit for him. 
This is more of a growing and evolving type of cosmic occurrence for Pisces man, and at the end of the day, he'll be in a positive and cheerful mood, so it's a good time to spend the evening, and the next one, together. 
Let us dream together… 
At the start of the 2nd week, you have a great opportunity to spend quality time together, and since the spotlight will be on you, it's a good time to do what you want to do. He's especially lovey-dovey at this point in time, and you might be on a more cold or reserved side, so let his emotions and his heart melt yours, and enjoy some romcom activities. 
When the Moon moves to Libra, Pisces man will still be in the sexy mood, so he'll want to talk about your mutual future, imagine scenarios with your little hut deep in the colorful woods, and woe you with scenes from his visions… let him, it'll bond you deeper together. 
When the Moon goes into Scorpio, he might get defensive about his philosophies. He might suffer an attack from his neighbors or siblings about his lifestyle and life choices. Although some of them wish him well, it really is none of their business what he does in his free time and with his own life. 
Be there to listen to him rant, and who knows, you might even discover that your life philosophies aren't so different after all, and his points, when presented in a coherent and sound manner, do make a lot of sense. 
First adventure, then… dark clouds
3rd week kicks off with Valentine's Day, and the Moon will be not just in Sagittarius, the most optimistic and cheerful sign, but also in his 10th house of public image. This is a great time to show you off and your romantic love to all of his haters, and to enjoy your time together. 
Since Valentine's Day is in the symbolism of Sagittarius, going to an amusement park, and having a blast on roller-coasters and various adrenaline-inducing rides can be a perfect fit. Nothing against a romantic date in a coffee shop filled with books, either, I just think bright lights and a cheery atmosphere can do wonders for his state of mind right now. 
After Valentine's Day, Moon will traverse the tumultuous seas of his subconsciousness and it won't be easy thanks to Pluto and Saturn on final degrees of their respective signs. 
This might be the time of fear, dark visions, and nightly visitations for Pisces man, this is why it's a good time to sleep with him, to cuddle him through the night, and to be there in the morning when the first light shines through the blinds … 
Super New Moon in Pisces, bless me! 
On the 20th there's a Super New Moon in Pisces, and this is a great time for Pisces man to plant the seeds of self-improvement and self-realization. It's a very romantic and idealistic New Moon, thus I advise you to spend time together and do something creative and productive. 
As the Moon progresses through the final week, his moods will range from productive and active, very straightforward and bold in his emotional expression; over cautious and intuitive, for who knows what wickedness might jump out from the corner; to very outspoken and determined to make the familial torments stop. 
This last week is a good time to accept his (bold) expressions of love, but also to make him change his lifestyle for the better – becoming more active and working on a daily workout routine might just be the right thing for him. 
At the very end of the month, its' good for you to take on the romantic role, and to spill your heart's beans to him. But not too much, remember, Pisces man likes a little bit of mystery and seclusion when it comes to emotional expression, for he loves to daydream more than to actually participate. 
Want to get the guidance to be his dream woman in 2023? Take a look at Pisces Man 2023 Secrets here.
Final Word 
There you have it my darling, let me know what's up in the comments below, and don't forget to tell me all about how January went .
If you feel the need to know more, then feel free to find me here and book your very own astrology reading. 
Pisces man will have a blessed February, and he'll have a lot of opportunities for growth, romance, and pleasant evenings. This month is a great opportunity to delve deeper into your love story and find out more about each other. 
The end of February holds special potential, so make sure to use that Pisces New Moon extensively. 
That's all I have for you now, until next time… 
Wishing you love and luck with your Capricorn Man, 
Your sister and relationship astrologer, 
Anna Kovach
---
---