Hello Sweetheart, do you have a Pisces man in your life? Let's do a deep dive on that ins and out of Pisces man this April.
Now the great thing about April is that there's more stability and Pisces guy should begin to feel happier and more contented with life.
However, at the same time, although things are slightly more predictable in terms of his emotions, that doesn't mean that things that going to be boring in terms of your lives in general. This month they may be good news and some surprises.
If you guys have been seeking some information, sending out correspondence or putting your feelers out there for new opportunities, these activities can definitely pay dividends, and you may get some exciting information which can help you make your next move in terms of family, business or home-related activities.
Solar Eclipse in Aries on the 20th April
The solar eclipse happens in the final degree of Aries and so it's influencing his solar second house and also his solar third house. This is very promising for financial negotiation and news about money. This is a great time for him to be bold in terms of money and earning potential, as he can win new clients or communicate with his clients about new products and services, and thus increase sales.
Right now he's able to increase his income through better communication and also through word of mouth and more money is always good news, right?
This period is particularly favorable for those Pisces are self-employed or who have multiple income streams, because while some may not be doing well, others will be doing really well and the pace can be fast and furious.
Sun Conjunct Jupiter in Aries on the 12th of April
This aspect is another indication of good news when it comes to money. There are opportunities for him to get a pay rise or overtime, or he may be able to win a bigger client.
This is a good time to support and motivate him to go after his targets aggressively when it comes to sales, as it's important for him to be quite ambitious in April, as hard work pays dividends.
This is a time when his underlying confidence is tested: the more you demonstrate that you have faith in his talents and believe in what he does, the more he'll feel that his work has value on a social level, and he'll will be more motivated and successful.
This tends to be a very fulfilling month, both personally and in terms of money, for Pisces guys who have businesses that are outward-looking and not just focused on the bottom line but which focus on improving people's lives.
This aspect also marks a time of more happiness and internal contentment. Whatever is going on in his life, in his relationships or with the people he cares most about, within him is a deep sense of calm and resolve.
He is able to connect with an innate sense of positivity within him, and this helps him weather all storms. So deep within him there is a place of calm, where he feels secure and that can bring you a lot of solace too, because he's more supportive and can help you to be particularly stoic this month.
It's not so much now about intuition in April, it's more about integrity and the values your faith has instilled within you both, with which can help you make good decisions.
Mercury goes retrograde in Taurus from the 21st of April
After the 21st is not an opportune time for short trips either for business or pleasure. It's better to stay at home, otherwise you guys could encounter delays and confusion. It may even be best to work from home.
I would advise you guys to have all your data sufficiently backed up before the 21st to avoid any internet problems, outages or other problems which would cause you to lose your work.
The last two weeks of April could be particularly hectic and disruptive, so if there are any important errands or communications that you have to attend to, try and get these done before the 21st, after which it will be very hard to complete things due to a lot of upheaval.
Any large-scale IT projects, mass communications or social media initiatives that you have to do should not be conducted after the 21st, as they are less likely to be successful.
Mercury conjunct Uranus in Taurus
Relationships with his siblings can yield quite surprising results. If he hasn't had much contact with his siblings for a number of months or years, this could be a time where they reunite, reconnect or suddenly reach out to each other due to unforeseen circumstances and begin to have a more productive relationship again.
He may hear from other relatives out of the blue and this can be somewhat surprising, but it can also bring a new element of excitement into your daily life and there is an opportunity to have a different relationship with these family members going forward.
This is an information-rich period for you guys, lots going on and lots of to absorb, and it's a fantastic time for any learning initiative.
As there's a lot to take on board, this can be a stressful time so it's really important to have a good relationship with neighbors and both of your extended families, so that you can exchange information, help each other and brainstorm together.
This month will certainly require you guys to do activities and to think thoughts that you don't normally think, so you can be quite surprised at some of the things that happen and also some of the sudden changes in altitude he has.
New information can render previous activities, routines or even the way you were doing your 8-5s redundant and there's a need for a whole new paradigm.
This is actually quite exciting because you have to admit, you guys were restless and craving change, so some disruption helps you to regain excitement in your life.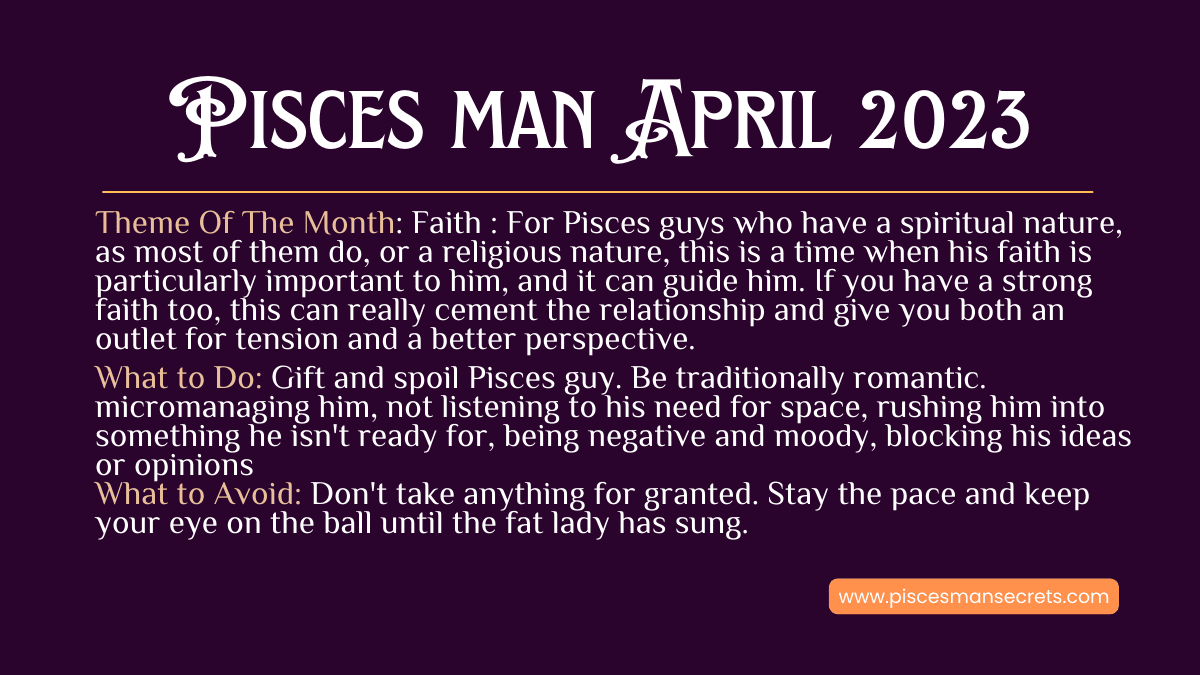 Theme of the month – Faith : For Pisces guys who have a spiritual nature, as most of them do, or a religious nature, this is a time when his faith is particularly important to him, and it can guide him. If you have a strong faith too, this can really cement the relationship and give you both an outlet for tension and a better perspective.
Magic Phrase: "The harder you work the luckier you get."
Text Magic: "Let's forget the world and escape into our own bubble, with some bubbly."
Do: Gift and spoil Pisces guy. Be traditionally romantic.
Don't: Don't take anything for granted. Stay the pace and keep your eye on the ball until the fat lady has sung.
Access your Pisces Man's Full 2023 Horoscope Here
Week One – Marriage Philosophy
Pisces guy has a pressing need to be in longer-term relationships right now and you can gain a great deal by solidifying a relationship by getting married, engaged or moving in together. He's after both the stimulation and company represented by a stable, harmonious union and he will appreciate you that much more and work harder your relationship.
It is important to be philosophical about the problems you face in your relationship, no two people gel all the time, you should see the difficulties as opportunities for your own growth and self-development. Relationships are not just about pairing up and having sex or starting a family, they are also about your unique journey and how being with a certain special person enhances and contributes to that journey.
Forgiveness is power in love right now, so be the bigger person and allow yourself to be healed by growing out of issues, letting the past die and wither, and be positive about your future with Pisces guy.
Week Two – Good Business
Money matters in general come to the fore this week, and it's a great time to turn things around for yourselves by implementing new ideas for ways to invest, or save money. It's also a good time for him to invest in his business, so have faith in his business ability, and while you should be patient and not expect overnight results, you should show him that you have confidence in all his plans and new directions as he'll really appreciate that.
Now when it comes to him investing in his business, this need not be merely financial, it could be investing time in improving his website, improving customer relations, or listening to feedback from clients and quickly jumping upon the information they give him.
Week Three – Jealousy
In new love relationships, a deep connection is developing, but there can be some jealousy or possessiveness. Thus it's far more likely that you're going to want to own each other and be more threatened by other friends or people who seek to impinge on your relationship.
You and Pisces guy will be looking to spend quality time with each other not to necessarily talk but to experience affection and togetherness. Therefore it's very important to shut out distractions and to have calm, tranquil periods when you can totally let your inhibitions go with Pisces guy.
Week Four – Hustle and Bustle
During this week there's an increased level of feeling, a passionate new edge to relationships. Whether you are married or dating Pisces guy, you will begin to feel more strongly about him. It's like that you've reached the Rubicon in the relationship and suddenly there's a point of no return where you now know a lot more about each other and therefore the boundaries are coming down.
So this is a time when relationship become a lot more interesting and deep from an emotional point of view, and you begin to sense a real connection.
This week will certainly require him to do activities and to think thoughts that he doesn't normally think, so you can be quite surprised at some of the things that he comes out with, and also some of the sudden changes in altitude he has.
So, how does that all sound my Darlings. Remember, I'm always here to guide and support you.
Pisces guy is looking for both beauty and security in a lover this week. You need to be quite traditional or even conservative in love to help anchor him while the rest of his life is suddenly shifting in focus.
In romance, he's impressed by manners, style, personal appearance and the aura of success.
This is not a week when he goes all gooey for the hippie in the camper van who writes great songs, not so; what does ring his bells in love, is someone who comes over as capable, verbally confident and smooth. He's not keen on rough edges, bad language or a lackadaisical attitude to life; he wants purpose and ambition in a potential partner.
If this hasn't quenched your thirst, you know where to find me, same place, as always.
Wishing you love and luck with your Pisces Man,
Your sister and relationship astrologer,
Anna Kovach