When a Pisces man is in love; he will certainly act a certain way. If you aren't sure what this looks like then please do keep reading for some very important things to look out for with your Pisces guy.
Makes You a Priority
When a Pisces man is falling in love or is in love; he will definitely see his mate as being the #1 priority in his life. The only clause in that would be is if he has children but that is a different type of love.
A Pisces man in love dotes over his lady and will make sure all her needs or desires are met. Sometimes this means sacrificing his own plans, money, or time so that she's happy.
I will say this; if he IS in love with you and doing this type of thing on your behalf; you should probably do the same for him out of respect and love for him. Don't let him give up his career or dreams just because he's in love.
This is definitely a man you want to try to have a delicate balance with because he's willing to give up just about anything in order to have the dreamiest love possible. He doesn't see the consequences; he only sees with his heart.
He's a romantic and can be somewhat old fashioned when it comes to making sure that his partner is always happy and thriving in life. Sometimes this can mean helping her take care of bills, her car, etc.
Whatever she may need help with or even wants in life; he'll do what he can to make that happen. He needs to be very careful he doesn't put himself in debt to elevate his love's every wish.
Heavy Romance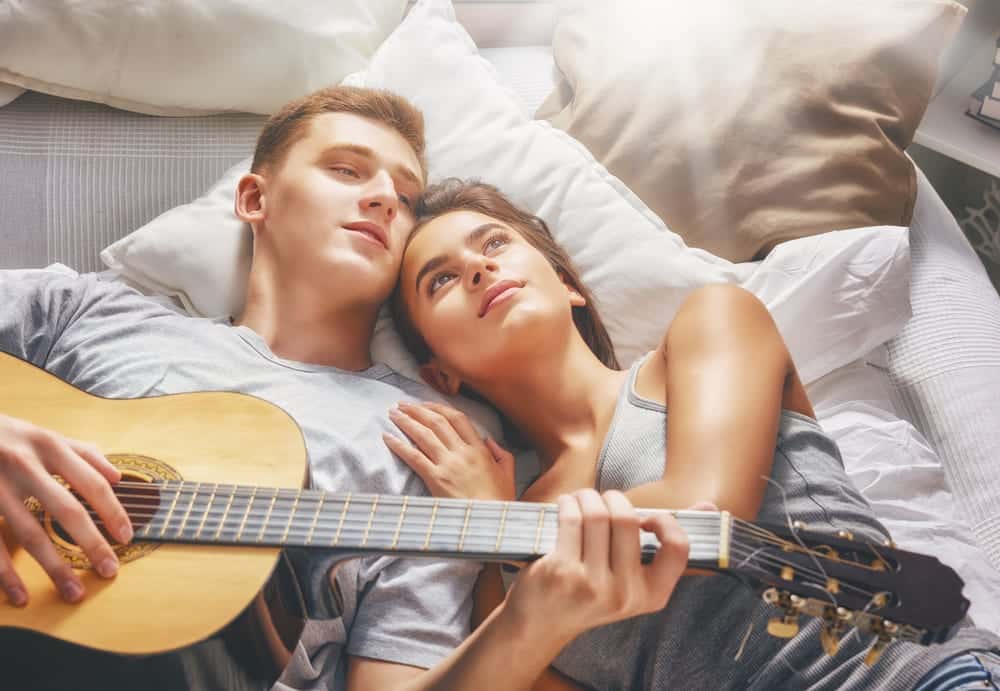 Pisces man is one that lives with his head in the clouds. That being said; he's going to be super romantic. He may write you songs, poetry, love letters, or may put together a music collage on your behalf.
He's the type that would have made you a mixed tape back in the late 80's or early 90's. Remember cassettes? Those were classic for making romantic music mixes for someone you had a crush on.
In time it moved to CD's and nowadays it's an MP3 list on a thumb drive. Whatever it is; if he puts all this thought and time into this type of thing for you; he's in love.
He IS the type of guy that may bring you flowers or one single red rose to be romantic and show you how you're on his mind. He may also pick up your favorite treats on the way to pick you up or to hang out at your place.
If he's good at cooking; he may also offer to cook for you often. Pisces chefs are notorious for cooking a lot for their lady love. It's how they express their feelings for their woman. How romantic is that?!
Pedestal Gesture
Many men tend to want to idealize their lady when they fall in love. Some men however; are not really that keen on making their woman seem like the most important facet to their lives.
Pisces men will absolutely put his lady on a pedestal when he's in love. She's the greatest woman ever and there isn't anything anyone can say that will change that view.
He will always think that you hung the moon if he's in love with you. You're the greatest thing since sliced bread and he's going to make sure your bread is always buttered baby.
He's a classic romantic by always putting you first and putting himself second. While that seems super sweet; he needs to also show himself some reverence otherwise he may end up being a victim with the wrong woman. This is how they get hurt.
However; if you're quite smitten with a Pisces man who treats you like you're a delicious prize that he is thrilled with having in his life; he's in love with you. He'll maintain this stance unless you prove him otherwise. He's enthralled and thinks you're the most amazing woman on the planet… ever.
Bedroom Eyes
Pisces men LOVE to express their love through their skills in the bedroom. When he's in love; he's going to want to do whatever you want and likely more. He's going to get super creative in attempt to please you as much as he can.
It's not enough that he's amazing in bed but he wants to be the best you've ever had and wants to be the one that absolutely blows your mind with his ability to make you orgasm far better than anyone else.
If you find that your Pisces man is going above and beyond in the bedroom; he's probably in love with you. He'll try to outdo himself even. He'll critique himself and try to do that much better next time.
If you're really into having oral sex done to you; Pisces man is the one that is all too happy to help you out in that department. If it's going to give you the biggest orgasm of your life or even multiples; he's on board.
The thing is; he actually REALLY loves doing it too. He isn't one of those that does it simply for your pleasure only; he does it because he thinks it's super sexy and delicious to taste you.
I've known a couple of Pisces men in my time and trust me when I tell you; they are the hottest in bed that you can find. They want you to have everything, feel everything, and have a deep spiritual connection with him.
He knows that through intimacy; he will achieve the greatest orgasms of his life with you as well. Love is a strong energy for the Pisces man. Be careful with him though because he gets hurt very easily.
If you're ready to understand more about Pisces man in love click here to learn more about Pisces Man Secrets.
Share your story (or situation) with our community in the comment section below (don't worry, it's anonymous).
Wishing you all the luck of the universe
Your friend and Relationship Astrologer,
Anna Kovach
---
---