Every month, the planets change signs and affect our relationships. Depending on the planetary movements, it may be tough to understand the needs and desires of the Pisces man. But with my tips based on the monthly energy, you can draw the attention of a Pisces man or improve your relationship with one in November 2020.
Attracting a Pisces Man in November 2020
1. Loosen Up
If you asked a Pisces man what he wanted out of a relationship in November 2020, he would respond, "a woman who's willing to live life to the fullest, free of obsessiveness and unhealthy control." 
From November 1 until November the transformational Sun in Scorpio will highlight the Pisces man's ninth house of adventure and exploration.
During Scorpio season, notice how free-flowing and open-minded the Pisces man becomes. Notice how much energy he places into releasing unhealthy attachment and learning to consciously let go. 
Because Scorpio is a water sign, which means they like to feel, the Pisces man will be more intuitive and emotionally connected to his desire for freedom and trying new things. He will be more open to discovering new insights about himself that he may have overlooked or rejected in the past. 
During this transit, the Pisces man is most attracted to the woman who encourages him to fearlessly live out his wildest dreams. 
With Scorpio's energy increasing his desire for new experiences and continued learning, this is an excellent time to visit a museum (safely, of course) or watch fun documentaries that will enlighten and expand his creative mind.
Just make sure that you yourself are relaxing and leaning into healthy moments of pleasure and inner peace. If you find yourself feeling emotionally rigid or riddled with anxiety, take a few deep, calming breaths. 
When you show the Pisces man that you are willing to surrender to the unknown and fully trust, you inspire him to do the same. This is a major plus in his book. 
2. Make Space for Intimacy and Healing
When it comes to love and relationships for the Pisces man in November, you may want to prepare for a month of deep introspection and potential solitude. 
He may be extremely withdrawn at times and intensely sexual at others. 
This is because from November 1 until November 21, Venus, the planet of love and relationships, will transit through his eighth house of death and rebirth in Libra. 
During this transit, the Pisces man will be most interested in the woman who is understanding of his need for space and extra alone time. 
Rather than feeling rejected or responding with anger, trust the process and give the Pisces man the mental and emotional freedom that he needs. Although you may think that smothering him will help him feel wanted, it actually does the opposite. 
He responds better during this season to someone who is mentally and emotionally balanced and not dependent on him for anything. 
For example, if you find that he's in a mood, don't take it personally. Let him know you are thinking of him and go your own way. By doing this, you display a level of silent confidence and self-respect that the Pisces man can't help but fall for. 
Play it cool and all will turn out just fine.
3. Invest in the Future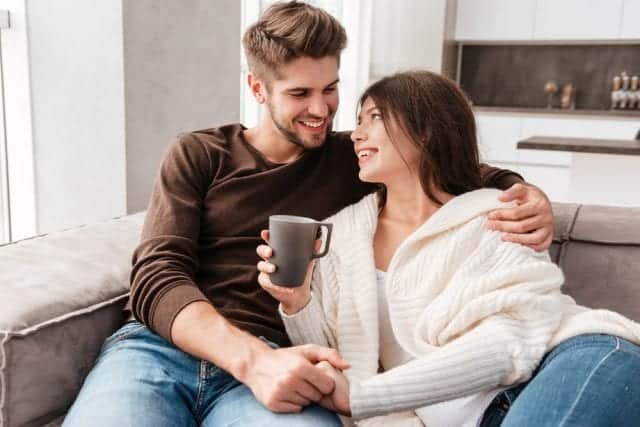 When it comes to the Pisces man's ideal partner in November, he wants someone who he can see himself with in the future. 
For the past two months, Mars, the planet of action and willpower, has been retrograde in the first Zodiac sign of Aries. 
However, on November 13, Mars will station direct, ending its review cycle in the Pisces man's second house of values and needs in Aries. With Mars now moving forward in his second house, the Pisces man is more clear about his needs and wants in a relationship. 
Because the second house is the house of values and assets, the Pisces man is eager to invest in his short and long-term future. And for some Pisces men, this may mean finally admitting you have deep feelings for someone you care for or love. 
If looking for ways to invest in the future, you may be consider buying a new big-ticket item, moving in together, or deciding to become monogamous once and for all. 
Depending on the status of your attraction, some Pisces men may finally get the courage to tie the knot. So don't be afraid to hint at it if that's one of your long-term goals. 
Just make sure that whatever decision you two make, you make it together. By enforcing a sense of teamwork and compromise in your relationship, you can prevent any jealousy or anger from forming later.
Read next: 5 Signs That a Pisces Man Is Ready to Commit to You
4. Take a Trip
Has your Pisces man been feeling locked in and restless lately? 
Perhaps it's time to go on a mini-vacation or road trip. Giving him a change of scenery is just the pick-me-up this sensitive man needs. 
If looking for the perfect time to book your flight or rental, try to schedule it on or around the Scorpio New Moon on November 16, which will illuminate the Pisces man's ninth house of travel and adventure. 
During this two-week lunation period, find fun ways to explore new areas and learn new things.
Even if you can't get out of your hometown, drive to a local city and check into a luxury hotel. Plan the perfect staycation!  
Overall, if you want to attract a Pisces man in November 2020, loosen up, make space for intimacy and healing, invest in the future, and plan a trip. 
If you're ready to dive deeper and start your journey to unconditional love with your Pisces Man, my guide Pisces Man Secrets is better than any daily, weekly, or monthly horoscope app you'll ever read. 
Instead of just giving you the basic knowledge of the Pisces man, I share real-life stories and examples of women who have been where you are and now have the relationship of their dreams. In this intuitive guide, I'll share with you my top secrets for winning the heart of the Pisces man. If you're ready to stop chasing the Pisces man, purchase Pisces Man Secrets here.
What are you hoping November will bring to your relationship? Let me know in the comments—I'd love to hear from you!
I look forward to hearing from you. 
Your sister and relationship astrologer,
Anna Kovach 
---
---